What is Mercedes-Benz COMAND®?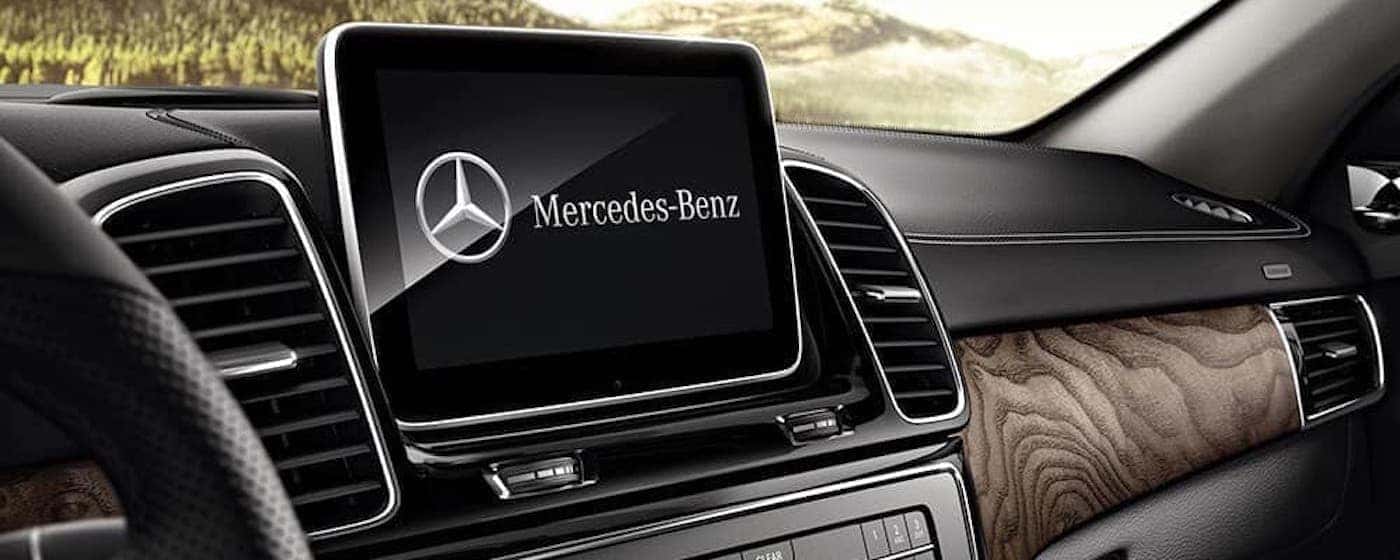 COMAND® stands for Mercedes-Benz cockpit management and data system. It is the answer Mercedes-Benz has provided to the question of in-vehicle infotainment & smartphone integration. With COMAND®, you can do everything from connect to Wi-Fi to control the audio volume and much more. Whether you drive a cutting-edge Mercedes-Benz GLC SUV or timeless Mercedes-Benz E-Class sedan, this helpful Mercedes-Benz technology is sure to make your Merced commutes and Stockton adventures alike safer and more engaging.
What Features Does COMAND® Include?
Want to make a hands-free call? Need to change the song that's been playing on repeat for five times because you inadvertently changed the settings on your phone? COMAND® in your Mercedes-Benz enables you to do these kinds of things more safely than if you would've had to pick up your phone or take your eyes off the road. Though COMAND® is no substitute for defensive driving, it can certainly help with these functions:
Music streaming
Messaging
Calling
Navigation
And more
As is the case with other in-vehicle technologies, Mercedes-Benz COMAND® updates will sometimes be required. Make sure you update the system as needed. Not sure if an update is required on your system? Contact us at Mercedes-Benz of Modesto with questions! Though there's no real way to reset the COMAND® system, Mercedes-Benz COMAND® system resets should automatically perform after a COMAND® update.
Is COMAND® Worth It?
Even though you might need to perform COMAND ® updates from time to time, the benefits of the Mercedes-Benz COMAND® system far outweigh the cost for the overwhelming majority of Stanislaus drivers. For easier hands-free calling, voice texting, audio adjustments, and navigation control, COMAND® is most definitely worth it.
What Is Mercedes-Benz MBUX®?
Starting in select 2020 Mercedes-Benz models, new Mercedes-Benz MBUX® will be available. This next-generation AI-powered cockpit assistant adds on even more features to those included in COMAND® systems to deliver unprecedented enjoyment and convenience. Aptly named, MBUX® delivers a Mercedes-Benz User Experience unlike any other:
MBUX® adds more unique features and more seamless smartphone integration compared to the COMAND® system.
MBUX® is easily controlled via touchscreen, steering-wheel controls, or a built-in touchpad located near the gear shift.
Most impressively, MBUX® allows you to take control of key vehicle features and settings using natural language voice commands; just say "Hey Mercedes," and you'll be well on your way to a more convenient drive, wherever near Merced you venture out.
MBUX® is already available in the 2020 Mercedes-Benz GLE interior.
Learn More About COMAND® with Mercedes-Benz of Modesto
Want to learn more about Mercedes-Benz COMAND® or the new Mercedes-Benz MBUX® system? Contact our Mercedes-Benz brand experts at Mercedes-Benz of Modesto today! Need help troubleshooting issues with your Mercedes-Benz infotainment system? Contact our Mercedes-Benz service specialists. Either way, at Mercedes-Benz of Modesto, we're here to help!
Learn More at Mercedes-Benz of Modesto
The GLC may be the best-selling Mercedes-Benz model, but with 12 stunning exterior colors to choose from, you'll always stand out from the crowd in Merced. Plus, a wide range of available interior accents and exterior detailing offer even more ways to customize. Read below for an overview of the Mercedes-Benz GLC 300 colors, and…

The new Mercedes-Benz E-Class interior cabin offers premium amenities and advanced technologies that the Mercedes-Benz brand is known and praised for. Thanks to new features like Mercedes-Benz User Experience and a redesigned steering wheel with built-in touch sensors, this is one luxury vehicle worth checking out at our dealership near Merced. Explore the 2021…

The 2021 Mercedes-Benz GLE is a highly-praised vehicle with advanced technology features in a fully-furnished and comfortable interior that also offers three powertrain options. The Mercedes-Benz GLE brings an excellent combination of powerful performance and sophistication to the Merced roads. Thanks to the available six trim levels to choose from, you won't have trouble finding…