Texting and Driving Laws in the State of California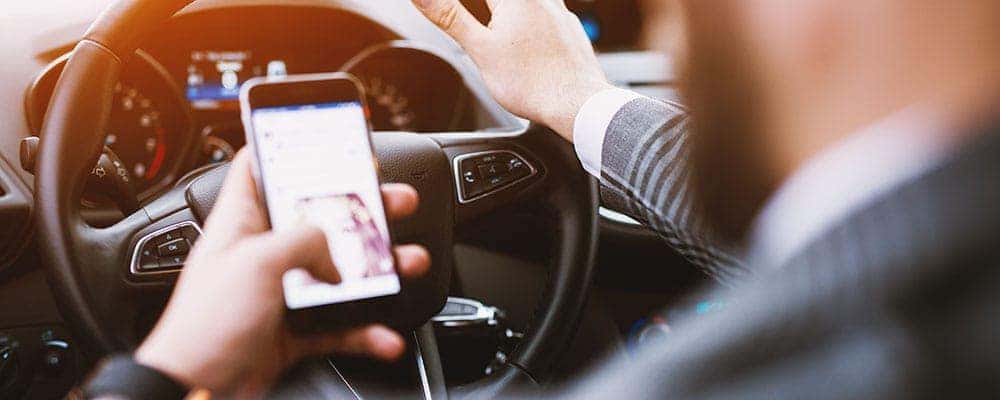 Sixteen states ban the use of a handheld cell phone while driving, and California is one of those sixteen states. Texting and driving is illegal in the state of California, as well. Learn about the texting and driving laws – otherwise known as distracted driving laws – here at Mercedes-Benz of Modesto.
Handheld Phones Are Illegal to Use While Driving
As mentioned, it is illegal for anyone to use a handheld cell phone while driving. While passengers are still free to use handheld phones in any circumstance, a driver is only allowed to use a handheld cell phone if and only if:
s/he is an authorized emergency vehicle operator.
s/he is operating a vehicle on private property.
s/he is placing an emergency call.
For the first and the second offense, Modesto drivers can expect to pay a $20 and $50 base fine, respectively. However, after assessments are added up, one can expect totals between $150 and $250.
Bluetooth®* Hands-Free Calling
If you're an adult aged 18 or older, then you are allowed to place phone calls, receive text messages, and send text messages via a Bluetooth®* hands-free device, as long as you don't cover both ears. Remember, this means you can only call and text if you're not using an actual handheld phone, if you're not moving your hands from the wheel, and if your eyes are still on the road. Fortunately, Mercedes-Benz models feature Bluetooth®* Hands-Free connectivity to the COMAND® infotainment system, so Merced drivers can still obey the law.
Teen Driving Laws
For teen drivers under the age of 18, the laws on the use of phones while driving is more restrictive. In fact, it is illegal for drivers under 18 to use a wireless phone or any other kind of electronic communications device to speak or text while driving. The only exception to this law is in the case of an emergency to contact police, the fire department, or medical assistance.
Learn More About Teen Driving Laws and Distracted Driving Laws with Mercedes-Benz of Modesto
The staff at Mercedes-Benz of Modesto wants you to stay safe on the streets of Stockton. So make the trip from Stanislaus to our dealership for a tutorial on how to stay connected on the go without putting yourself at risk. While you're here, find out how we're here to keep drivers safe and give back to the community, and don't hesitate to contact us at any time!
Related Posts from Mercedes-Benz of Modesto
Whether you're planning a night out with friends or a family dinner, Stockton restaurants serve up a variety of inspired foods for everyone. After beating the heat this summer, spoil yourself with some of our favorite handcrafted foods from one the best restaurants in Stockton, CA! Contact Us Market Tavern Regardless of whether you need…

Looking for a new luxury SUV for you and your family? The 2019 Mercedes-Benz GLE is a great option, as it offers many performance, safety, and comfort features to improve your rides around Merced. Explore the Mercedes-Benz GLE prices for each trim, then visit Mercedes-Benz of Modesto to get behind the wheel of one of our models…

A new series designed for both traveling and living, Mercedes-Benz Airstream provides over 50 standard features and two floor plan options: the Lounge and the Grand Tour. Learn more about the Mercedes-Benz Airstream floorplans and features, and see how this unique Mercedes-Benz vehicle keeps optimal comfort and performance in mind. Mercedes-Benz Inventory Floorplan Options Each…
*Disclaimers:
Bluetooth is a registered mark of Bluetooth SIG, Inc.